In partnership with The Fledgling Fund and The Ford Foundation,
the producers of "The Farm: 10 Down" have created an extensive
ongoing outreach campaign to bring the film to communities across the country.
Contact us at screenings@hcdmediagroup.com to learn how you
can screen "The Farm: 10 Down" in your community!
"THE FARM: 10 DOWN" SCREENINGS
CONFERENCE OF SOUTHWEST FOUNDATIONS
Vail, CO
September 30-October 2nd, 2010
The Farm: 10 Down" was screened at Conference of Southwest Foundations 62nd Annual Conference in Vail, Colorado, September 30 – October 2nd. The Conference of Southwest Foundations is a nonprofit membership association of grantmaking organizations that provides a forum for the exchange of ideas, experiences and expertise among grantmakers, and resources to enhance the ability of each organization to fulfill its charitable mission. We maintain a library of the resources required for effective, efficient and responsible philanthropy.
The film was part of the opening night special event before program officers and executives of 143 foundations, followed by a discussion on how foundations can use media/film to more effectively address criminal justice issues in their communities.
ANNUAL LEGISLATIVE CONFERENCE, CONGRESSIONAL BLACK CAUCUS
Washington, D.C.
September 16th, 2010
On September 16th, "The Farm: 10 Down" was screened before an overflowing audience at the Congressional Black Caucus Annual Legislative Conference Independent Film Series.  Each year, the Annual Legislative Conference Independent Film Series showcases ground-breaking short movies and documentaries that highlight the experiences of Black people in the United States and abroad. Drawing on thousands of lawmakers, policy professionals, grass-roots activists and concerned citizens who attend ALC each year, the series provides a unique opportunity for seasoned and emerging filmmakers to shape national discourse and policy through the cinematic arts.  The Farm: 10 Down film was screened for a session called Juvenile Justice Reform and was selected to raise awareness of the correctional system and its impact on American society.
The films were followed by a panel discussion with Ashanti Witherspoon (ex-inmate and subject of The Farm),  Producer Mara-Michelle Batlin and Director Jonathan Stack.  Other participants included:  Ivory A. Toldson, Congressional Black Caucus, Sherry Dorsey, director and producer,  "Justice For All," Rev. Derrick Johnson "Pastor D", Pastor of Joshua Harvest Church in Delaware, Dr. Terry B. Joyner, Director of Academic Performance and Accountability and facilitator of the Ohio Improvement Process (OIP), Mr. Dwayne Betts, the National Spokesperson for the Campaign For Youth Justice, Dr. Cheryl Grills, Associate Dean of Loyola Marymount University in Los Angeles, CA and President-Elect of the Association of Black Psychologists and R. Dwayne Betts, national spokesperson for the Campaign for Youth Justice.
Many criminal justice professionals and community leaders were in the audience, and several sought follow up events.  The film was also screened in DC by The Justice Roundtable, a group of organizations and leaders in DC who are working on issues of social justice. That audience was instrumental in getting several other screenings, including the one by the Congressional Black Caucus.
AT&T PERFORMING ARTS CENTER
Dallas, TX
April 22, 2010
Inspiring. Captivating. Encouraging. Those are some of the adjectives from participants at a capacity screening of "The Farm: 10 Down" at the Nancy Hamon Hall at The Winspear Opera House, AT&T Performing Arts Center on April 22, 2010. The invitation-only event was attended by Dallas District Attorney Craig Watkins; State Representative Barbara Mallory Caraway; business leader Tom Dunning; Joyce Ann Brown, president & CEO of Mothers (Fathers) for the Advancement of Social Systems; Mark Hollis, Texas Baptist Men along with close to 200 Texas philanthropists, business leaders and criminal and social justice profession.
The evening began with a reception where guests met the producers, followed by the documentary screening.  Guests experienced a range of emotions as they followed the triumphs and struggles of three Angola inmates.  After the screening, Warden Burl Cain of Angola was on hand to answer questions about the complete turn-around of what was once notorious as one of the most dangerous prisons in America.  When asked about the turn-around, he attributes it, in part, to the inmate's attendance at the Bible College on the prison grounds.  I believe the life principles they learn in the Bible College has transformed their lives," said Warden Cain.  "Because of the internal changes in these men, we experience peace and mutual respect at Angola."
Here are a few more memorable quotes from the night:
"After viewing the film, the employees and inmates respect the warden…causing change in the system." – Joyce Ann Brown, previously incarcerated
"Inmate-victim reconciliation is the key to rehabilitation of inmates." – Warden Burl Cain
"Moral rehabilitation is the only rehabilitation." – Warden Burl Cain
"We are so proud of the documentary that gives a voice to the Angola population, but more importantly showcases the powerful turn-around of the prison spearheaded by Warden Burl Cain.  The work he has accomplished at Angola proves that prison reform is a real possibility, even in Texas," – Mara-Michelle Batlin, Producer, "The Farm: 10 Down"
Press from the event was covered in articles by both Dallas Weekly and The Young Professional Advocate.
Journalist Brandi Richard was also on hand to capture some of the Warden Burl Cain's thoughts in a three-part interview following the screening.
HARVARD LAW SCHOOL, CHARLES HAMILTON INSTITUTE FOR RACE AND JUSTICE
Boston, MA
April 14, 2010
Producer Mara-Michelle Batlin and Ashanti Witherspoon were honored to screen "The Farm: 10 Down" on April 14, 2010 at the Charles Hamilton Houston Institute for Race and Justice at Harvard Law School.
Many members of the community joined law students, criminal justice scholars, and community leaders in an overflow audience for a discussion about race and justice in America. Ashanti Witherspoon and Mara-Michelle Batlin participated in a panel discussion following the screening.
In a touching moment, a young man approached Mr. Witherspoon after the event and said that it had been his viewing of the original film, "The Farm" as a college freshman in 2002, that had led him on the path that brought him to Harvard Law School.  And, he told Ashanti, meeting Ashanti 8 years later, and asking the man who had inspired his career in social justice to serve as his mentor, was an emotional and affirming experience.  We were all in tears as this meaningful moment unfolded, and it was a testament to the power and the ripple effects of film in society.
92YTRIBECA
Brooklyn, NY
July 8, 2009

THE FARM: 10 DOWN had its NY Premiere at the 92YTribeca on Wednesday, July 8th, co-presented by the Woodstock Film Festival.  The sold out event had people sitting on the floor in the front and sidelines of the theatre, a captivated audience watching as the lives of 4 inmates at the maximum security Angola prison unfold before them.  The screening was followed by a lengthy and in-depth Q&A session with filmmaker Jonathan Stack and former inmate Eugene "Bishop" Tanniehill, moderated by WFF's co-founder and executive director Meira Blaustein.  Bishop, a devout Christian and skilled preacher who recently walked out a free man after 50 years in prison, shared a passionate and captivating serman with the audience. His wife, who he met soon after leaving prison, sat in the audience and was moved as everyone else in the room was. Jonathan answered the audiences' various questions, providing his unique insight into a private world that most of us know very little about. Following the packed screening, guests and filmmakers mingled and carried their conversations to the bar in the 92YTribeca.  Overall, the event was wonderfully successful! We'll see you in Woodstock!
- Meira Blaustein, Co-Founder/Executive Director, Woodstock Film Festival
Screen "The Farm: 10 Down" in your community!
THE FARM: 10 DOWN
In 1997, Jonathan Stack and Liz Garbus spent a year shooting inside Louisiana's maximum security penitentiary, capturing the reality of six men living – and dying – in America's notorious "bloodiest prison". Their ground breaking film, "The Farm" (1998), turned a non-judgemental lens on society's most egregious offenders, and helped us to appreciate the essential humanity that each possesses. Through our own growing compassion for the people who are currently incarcerated and victims, we came to understand the power and possibility of redemption. The film garnered many of cinema's top awards, including the Sundance Grand Jury Prize, the LA Film Critic's Award, the New York Film Critic's Award, an Academy Award nomination, 2 Emmys and 4 Emmy nominations. Released in 15 countries,"The Farm" raised awareness throughout the world of the unique approach to "moral rehabilitation" that was transforming Angola Prison and the men who live there.
In the decade since the release of "The Farm," Jonathan and his colleagues have returned time and again to Angola, drawn by the compelling stories of 5,200 men – 95% of whom will die there – whose quest for meaning and longing for redemption sustain them in one of America's darkest corners. "The Farm: 10 Down,"  the powerful sequel to "The Farm," speaks of human and institutional transformation. The film reminds us that a vast portion of our society resides behind fortress walls, that corrections requires compassion, and that the only true form of freedom is forgiveness.
COMMUNITY OUTREACH
In partnership with The Fledgling Fund and The Ford Foundation, the producers of "The Farm: 10 Down" have created an extensive and ongoing outreach campaign that is bringing the film to communities across the country. Click here to preview a sampling of past screenings.
FACILITATION GUIDES
In addition to screening the film, Highest Common Denominator Fund was awarded a grant from The Fledgling Fund, for the creation and distribution of facilitation guides for the meaningful discussion of "The Farm: 10 Down" as a tool for social change.
Use "The Farm: 10 Down" to:
Deepen you understanding of:  human rights, rehabilitation and re-entry,  racial disparity in sentencing, community corrections, victims rights and restorative justice, race and justice and redemption and forgiveness as social/moral values.
Facilitate a group discussion
Plan an event
Please register before downloading your complimentary PDF copy of the facilitation guide for "The Farm: 10 Down."

Thank you for registering!  Click here to download your Facilitation Guide.
You may also receive a copy by emailing us at screenings@hcdmediagroup.com.  Or, you may contact us at:
HCD FUND Screenings
16301 Quorum Drive, Suite 100A
Addison, TX 75001
972-728-8490
VIEW CLIPS
Watch the trailer for "The Farm: 10 Down."

SALES
"The Farm: 10 Down" is available through the Highest Common Denominator Media Group website for both home and academic viewing.
Please visit the HCD Media Group store here to purchase your copy today!
HIGHEST COMMON DENOMINATOR MEDIA GROUP:
For more information about "The Farm: 10 Down" outreach program, or bringing the film and director to your community, please contact HCD Media Group at:
HCD Media Group
Attn:  Screenings
16301 Quorum Drive, Suite 100A
Addison, TX 75001
972-728-8490
Email: screenings@hcdmediagroup.com
Web: www.hcdmediagroup.com
Kaia Stern, Director of the Prison Studies Project at Harvard University was kind enough to send us this letter written by Eddie Ellis, the Director or Metro Prison Ministry.  The letter addresses the power of language and the desire for those in prison to be identified as people and not the many other terms referring to incarceration.
AN OPEN LETTER TO OUR FRIENDS
Dear Friends:
One of the primary initiatives of The Riverside Church Metro Prison Ministry is to respond to the negative public perception about people formerly or currently incarcerated as expressed in the language and concepts used to describe us. When we are not called mad dogs, animals, predators, offenders and other derogatory terms, we are referred to as inmates, convicts, prisoners and felons. All terms devoid of humanness which identify us as "things" rather than as people. While these terms have achieved a degree of acceptance, and are the "official" language of the media, law enforcement, the prison industrial complex and public policy agencies, they are no longer acceptable for us and we are asking that you stop using them.
In an effort to assist our transition from prison to our communities as responsible citizens and to create a more positive human image of ourselves, we are asking everyone to stop using these negative terms and to simply refer to us as PEOPLE. People currently or formerly incarcerated, PEOPLE on parole, PEOPLE recently released from prison, PEOPLE in prison, PEOPLE with criminal convictions, but PEOPLE. We habitually underestimate the power of language. The bible says, "death and life are in the power of the tongue." In fact, all of the faith traditions recognize the power of words and, in particular, names that we are given or give ourselves. Ancient traditions considered the "naming ceremony" one of the most important rites of passage. Your name indicated not only who you were and where you belonged, but also who you could be. The worst part of repeatedly hearing your negative definition of me, is that I begin to believe it myself "for as a man thinketh in his heart, so is he." It follows then, that calling me inmate, convict, prisoner, felon, or offender indicates a lack of understanding of who I am, but more importantly what I can be. I can be and am much more than an "ex-con," or an "ex-offender," or an "ex-felon."
The Riverside Church Metro Prison Ministry firmly believes that if we can get progressive publications, organizations and individuals like you to refrain from using the old offensive language and simply refer to us as "people," we will have achieved a significant step forward in our life giving struggle to be recognized as the human beings we are. We have made our mistakes, yes, but we have also paid or are paying our debts to society. We believe we have the right to be called by a name we choose, rather than one someone else decides to use. We think that by insisting on being called "people" we reaffirm our right to be recognized as human beings, not animals, inmates, prisoners or offenders.
Accordingly, please talk with your friends and colleagues about this initiative. If you agree with our approach encourage others to join us. Use the new language in your publications, web sites and literature. When you hear people using the negative language, gently and respectfully correct them and explain why such language is hurting us. Please circulate this letter on your various list serves. If you disagree with this initiative, kindly write and tell us why at the above address or e-mail us at eellis@theriversidechurchny.org. Perhaps we have overlooked something.
Please join us in making this campaign successful. With your help we can change public opinion, one person at a time. Thank you so much.
In Solidarity and Love,
Eddie Ellis
Director,
The Riverside Church Metro Prison Ministry
The Monroe County Detention Center in Key West Florida has an innovative art program that has been going on for 15 years.  Helping inmates by giving them healthy outlets for rehabilitation.
Founded by Lynne Vantriglia in 1994, the program is a nonprofit and claims to "significantly increase the effectiveness of incarceration at reducing the number of re-offenders, saving the tax-payers of Monroe County over $2,000,000 and increasing the availability of revenue producing Federal use units."
You can find out more information on the website and watch this 1o min video about the project: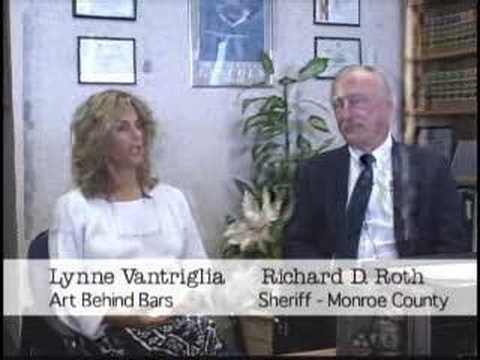 Beyond Prisons: A New Interfaith Paradigm for Our Failed Prison System explores the history of the American penal system and presents a moral and ethical criticism of the state of the current prison system.
Beyond Prisons: A New Interfaith Paradigm for Our Failed Prison System is available for purchase on Amazon.
Six inmates at Montana State Prison have formed a band called Down Time Prison Music. They've written and composed all their own songs and aim to use their music to give people on the outside of a sense of what it is like to be a prisoner.
Watch their music video "Concrete Boxes" here.
Check out their songs on Myspace.
Ethnomusicologist, Alan Lomax, began field recording of folk music when he was just a teenager alongside his father, John Lomax, a pioneer in the field. When he was 18, on a visit to the Angola Prison, Lomax and his father discovered the music of a prisoner named Huddie William Ledbetter, better know as Lead Belly. The hundreds of Lead Belly's songs they recorded were just a blip in their eventual collection of tens of thousands of field recordings for the Library of Congress.
Volumes I & II are available to purchase through Rounder Records HERE.
Several tracks have been uploaded as videos that can be found HERE.
The Beat Within is a journal for and by incarcerated youth. The mission of the journal is to provide a creative outlet for young people within the prison system, and it features poetry, art and creative writing.
Here's a poem from the latest issue:
I Forgive You
by Remy in Alameda
I forgive you
For not being there for me
I forgive you
For leaving me
I forgive you
For neglecting me
I forgive you
For keeping my brothers away from me
I forgive you
For hurting my mommy
I forgive you
For hurting me over and over again
I forgive you
For lying to me
I forgive you
For standing me up
I forgive you
For not being in my kid's life
I forgive you
For leting someone else take your place
I forgive you
For not being my father
I forgive you
Read more of The Beat Within here.
Scott Langley, photojournalist and human rights activist, put together a series of photographs over eight years that he called the "Death Penalty Photography Documentary Project." Here are a couple images below. Check out the website
for more galleries.
Masumi Hayashi was born at Gila River Relocation camp in Arizona, a Japanese interment camp in 1945. Throughout her career she created composite 360 degree photographs of 10 Japanese internment camps on American soil.