Highlighting the fact that women make up 7% of the U.S. prison population, a Forbes.com commentary focuses on findings that the female prison population is growing at twice the rate of their male counterparts.
Click here to read the Forbes commentary.
Flozelle Woodmore, who served 20 years of a life sentence for killing her abusive partner, is among the rare few to have gained freedom after being sentenced to life in prison in California.  Woodmore will organize friends and family members of people serving life sentences to advocate for change in the parole system.
In August 2007, after 10 parole hearings (and being found suitable six times), Woodmore was finally released from prison.  While in prison, Woodmore obtained her GED, completed a vocational certification program, assisted with creating a battered women group, and became a member of an initiative to support youth at-risk of becoming ensnared in the criminal justice system.  Since her release, Woodmore has been active in advocacy campaigns with a range of local and statewide organizations, in an effort tot reduce California's reliance on incarceration and harsh punishment.
What I Want My Words To Do To You offers an unprecedented look into the minds and hearts of women inmates of New York's Bedford Hills Correctional Facility.  The film goes inside a writing workshop led by playwright Eve Ensler, consisting of 15 women, most of whom were convicted of murder.  Through a series of exercises and discussions, the women, delve into and expose their most terrifying realities as they grapple with the nature of their crimes and culpability.
Click here to learn more about What I Want My Words To Do To You.
Central Connecticut State University organizes day-long conference to address and identify the needs of children who are dealing with a parent who is, or has been incarcerated.
Click here to read the article.
Elaine Leeder's book Inside and Out: Women, Prison, and Therapy takes a look at the growing problem of female incarceration. Leeder's uses her feminist perspective to dispel stereotypes about women offenders. The book also includes an in-depth analysis of how violence has affected women and led to increased criminality.
Inside and Out: Women, Prison, and Therapy can be purchased on Amazon.com.
In his 2006 photo essay, Nerv, Fabio Cuttica used photos from a beauty pageant inside of Bogota's Buen Pastor Prison. The beauty pageant is in honor of the patron saint of prisoners, Virgin Mercedes.
Various other photographs of prison beauty pageants can be seen on a Russian website here, however it is unclear if some of these are staged or photojournalism.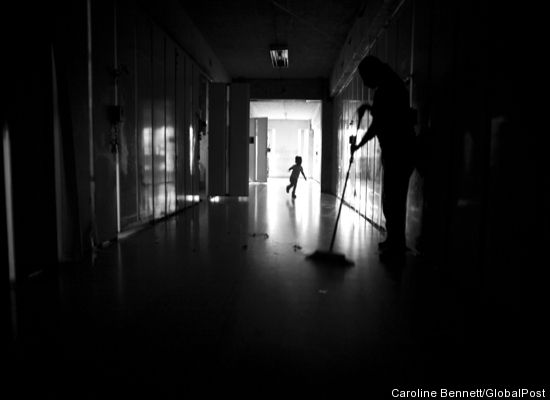 In Mexico it is legal for children born to incarcerated mothers to stay inside prison until the age of six. At Santa Martha Acatitla Prison for Women in Mexico City, around 50 children are living among women serving sentences for drug dealing, kidnapping, and murder. Caroline Bennett captures the lives of these women and children on black and white film.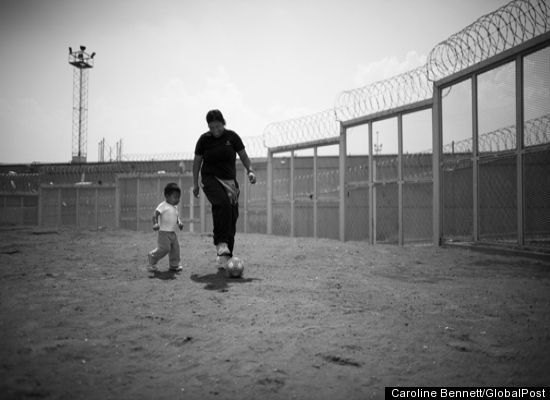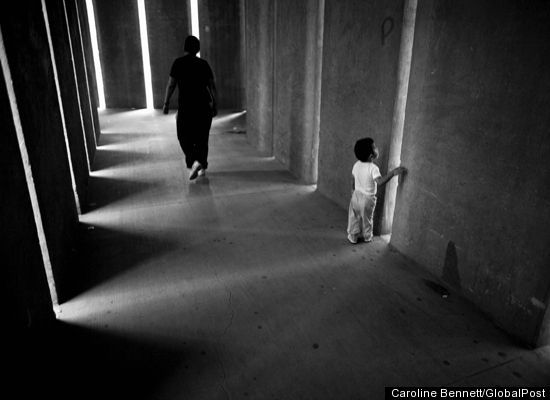 Momlogic has posted an article about the inhumane treatment of pregnant women in prison. Prisons are not legally obligated to provide prenatal care or proper nutrition to their pregnant inmates. Women in labor are reportedly chained to hospital beds and only given 12 hours with their newborns before being forced to hand them off to relatives. The American College of Obstetricians and Gynecologists and the United Nations have condemned the shackling of women during labor.
Malika Saada Saar, executive director of the Rebecca Project for Human Rights, claims that the majority of these women are in prison for non-violent or drug-related crimes. The female prison population has risen 432% over the past 25 years due to mandatory sentences for drug-related crimes.
Written by Jennifer Gonnerman, Life on the Outside: The Prison Odyssey of Elaine Bartlett is a moving story of a woman's struggle to reenter society after spending sixteen years in prison.  Find more on the book's website.